The Roaring Fork Conservancy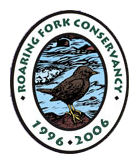 A Voice For Our Rivers – Filmed and edited by Krysia Carter-Giez, produced by Carlyle Kyzer, First Light Films was responsible for the host sequence, sound mix, and on-line edit. A forty-minute film and ten minute short promote the work of The Roaring Fork Conservancy, an organization dedicated to preserving the water quality and riparian ecosystems of rivers in the Roaring Fork Valley. Featuring Robert Wagner as host.
The Wilderness Workshop

Wild For Good is one-hour documentary film celebrating wilderness in America and the 40th anniversary of the Wilderness Act. The film captures the uniqueness of this legislation in human history and the significance of wilderness in the American experience. Wild For Good tells the story of three fiercely determined Colorado women -- Dottie Fox, Connie Harvey, and Joy Caudill.
Their efforts have protected a half million acres of Colorado's spectacular Rocky Mountains, a tale that testifies to the pivotal role of the individual to make real the lofty promises of national wilderness legislation and to truly change the world.