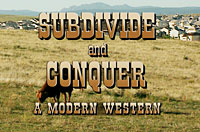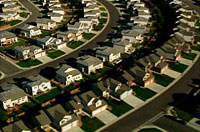 SUBDIVIDE AND CONQUER : A Modern Western is an hour long documentary about sprawl in the American West. Narrated by the late Dennis Weaver, SUBDIVIDE explores the consequences of unplanned growth against the backdrop of the West, epicenter for American myths about the endless frontier and rugged individualism. The show also takes viewers to communities experimenting with alternative approaches to growth, where sound public policy and good land use planning have created more livable built environments. Winning numerous awards, the show has been seen by millions of viewers on over 200 PBS stations. SUBDIVIDE AND CONQUER continues brisk video sales as community planners and teachers use it to illuminate the alternatives to sprawl.
"...An engaging and didactic documentary on the consequences and projected solutions...." -- Rated "A" by Entertainment Weekly
"For its first-rate script and score, great production values, and useful suggestions, I highly recommend that you "head this one up and move it on out" to your video shelves." Video Librarian
"… A revealing look at the perils of unmanaged growth. We may well look back on this documentary 30 years from now as a lesson in How the West Was Lost." -- Mother Jones
For more about the film 
http://www.subdividefilm.com/
---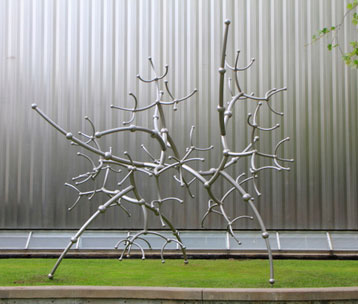 JAMES SURLS – LINES IN SPACE
A profile of the sculptor whose dramatic works in wood and steel are being recognized as modern masterpieces.
---
TRAILSIDE: Make Your Own Adventure  an instuctional show about climbing Mt. Rainier – for Pacific Production
FRONTLINE: Dreams of Tibet An examination of the plight of Tibetan people and culture after the Chinese occupation – for David Breashears

TALLER THAN EVEREST 
For David Breashears and Arcturus Motion Pictures
The science and history of measuring the world's tallest mountains. Italian geographer Ardito Desio settles the recent controversy over whether K2 might be taller than Mt. Everest.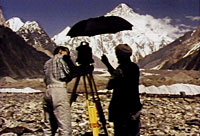 The first accurate GPS measurement of K2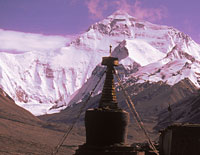 Mt. Everest was triangulated from the North, in Tibet
Also for Nova
WARNINGS FROM THE ICE
AVALANCHE
EASTER ISLAND
SURVIVING DENALI