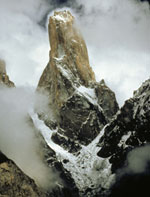 KARAKORAM - The First Free Ascent of the Nameless Tower
GOOD MORNING AMERICA - Disabled Skiing Program with Billy Kidd


THE NATIVE AMERICANS - 5 part series

THE ROCKY MOUNTAIN ADVENTURE GAMES
HOW'D THEY DO THAT?
- Extreme Skiing on Mt. Hood

MICHEL MOORE'S TV NATION


WILDLIFE ADVENTURES Panama with Mariel Hemingway -
For Linda Harrar Productions


THE INCREDIBLE CAMERA
OPERATION RED FLAG


ACTION ZONE - 5 Part Series on Adventure Sports -
Paragliding, Atlanta Formula Car Racing, Snowboarding with Daryl Hannah, Offshore Powerboat Racing, Gliding


DATELINE - several news magazine shots.


THE U.S. COMEDY ARTS FESTIVAL